Bank of America Female Leadership Series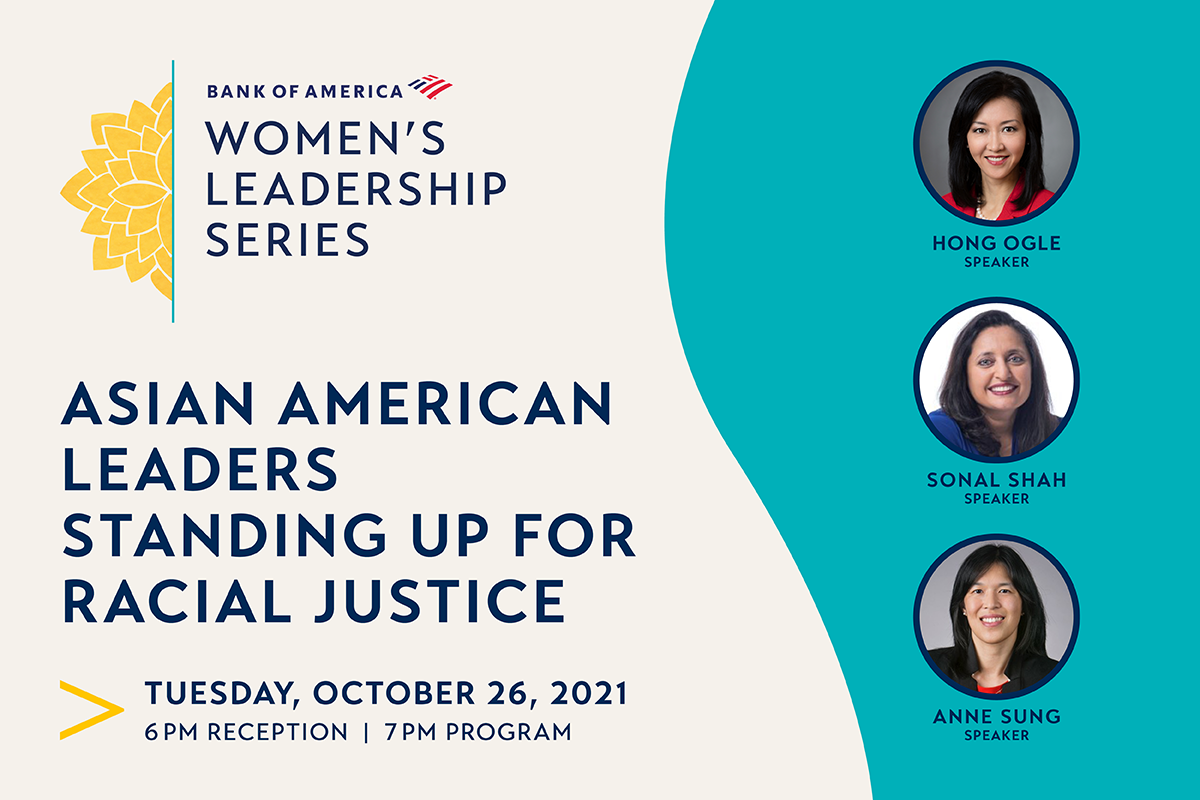 ---
About the speakers
Hong Ogle is the chairman of Bank of America Houston. She helps meet the financial needs of individuals, families and businesses by connecting them to the right resources within Bank of America. Hong also leads Bank of America's local environmental, social, and governance work, leveraging the company's unparalleled capabilities to help the region meet social and economic challenges and build stronger communities. In addition to her role as President of Houston, Hong is the Director of the Central South Division for the Bank of America Private Bank. In this role, Hong is responsible for overseeing the private banking offices in Texas, Kansas, Oklahoma, Arkansas and surrounding states in order to provide the best financial solutions to our ultra-high-value clients.
Hong started her career in the early 1990s as a financial advisor and moved to management in 1999. Hong joined Bank of America in a managerial position in 2010. Born and raised in Beijing, China, Hong graduated from her bachelor's degree from Tsinghua University before coming to the United States in 1990 for graduate studies and obtained her master's degree in science from Florida State University. She is a NASD listed principal with Series 3, 7, 8, 31, 63 and 65 securities licenses. Hong was selected as one of Houston's Most Admired CEOs of 2019 by the Houston Business Journal. She sits on the board of directors of Central Houston Inc. and is involved in the United Way Women's Initiative. Hong chairs the Bank of America Charitable Foundation in Houston. She is a member of the Bank of America Global Diversity and Inclusion Council and executive sponsor of the Houston Asian Leadership Network.
Sonal Shah is the founding president of TAAF. A leading global leader in social impact and innovation, Sonal has initiated and led social impact efforts in academia, government, and the private and philanthropic sectors for over twenty-five years. Prior to his appointment to TAAF, Sonal founded and led the Beeck Center for Social Impact and Innovation at Georgetown University, an interdisciplinary center that provided students with a direct opportunity to work on social impact projects in the public, private sectors. and social.
Sonal has extensive experience in both the public and private sectors. She served as President Obama's Assistant Assistant and Director of the White House's Office of Social Innovation and Civic Participation, where she was tasked with creating innovative approaches to using technology for social programs across the federal government. and create large-scale public-private partnerships. Previously, she worked as an international economist in the Treasury Department, establishing the central bank in Bosnia, working for post-conflict reconstruction in Kosovo and implementing poverty reduction strategies in Africa. In the private sector, Sonal has led technology initiatives for civic voice and impact investing as head of global development initiatives at Google.org. Prior to joining Google.org, she developed environmental strategy and led clean technology investment initiatives at Goldman Sachs. Sonal sits on the boards of Oxfam America, the UBS Optimus Foundation and the Century Foundation. She is also an advisor to the Democracy Fund and coordinates the Initiative on Tech & Society at Georgetown University. In 2020, she served as National Policy Director for Mayor Pete Buttigieg's presidential campaign.
Anne Chanté has been a strong advocate of good governance, prudent management of taxpayer dollars, college and career readiness standards, strategic partnerships to provide comprehensive school services and education services special improvements since joining the HISD Education Board in January 2017. A proud graduate of HISD Schools and Harvard University, Anne fell in love with education as a young member of the Teach for America Corps. She taught at Wisdom High School, where she served as chair of the science department and was teacher of the year in 2011. Previously, she was director of strategic planning and public policy for the county sheriff's office. de Harris and Director of Strategy at Project GRAD Houston, a nonprofit educational organization that prepares students for their academic and career goals.
Anne is a Senior Fellow of the American Leadership Forum, Senior Trustee of the Texas Association of School Boards (TASB), and sits on the Boards of TASB, the SPARK School Park Program, and OCA – Greater Houston, an organization of defense of the civil rights of the APIA. Anne holds a bachelor's and master's degree in physics and a master's degree in public policy from Harvard University.
---
About the moderator
Award-winning ABC journalist Melanie Lawson is currently a co-host of Live at 5 and Channel 13's noon show, Eyewitness News at 11 a.m. Melanie has covered virtually every municipal, state and national election during her career. She has traveled to Cuba, Panama and Africa, among others. She has won numerous awards for her reporting, including an Emmy for her coverage of President Clinton's visit to South Africa, the only local journalist in the country to make the trip. Melanie has interviewed a wide range of personalities including three US Presidents, Henry Kissinger, the Dalai Lama, poet Maya Angelou, Grammy Award-winning Destiny's Child, and former heavyweight champion boxer George Foreman, among others. . She received her undergraduate degree in politics from Princeton University and a joint degree in law and journalism from Columbia University. She is admitted to the bars of Texas and the State of New York.