CenterPoint Energy receives the Energetic Women Excellence in Women's Development Award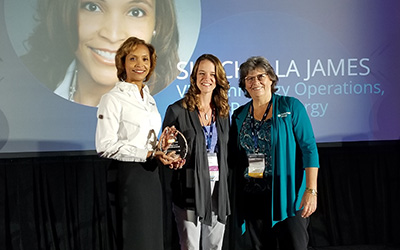 BLOOMINGTON, Minnesota (PRWEB)
August 07, 2018
MEA and Energetic Women are proud to recognize CenterPoint Energy with the Excellence in Women's Development Award for their active efforts in achieving diversity and inclusion success. The Excellence in Women's Development Award recognizes a company in the energy distribution sector that valiantly advocates for diversity and inclusion efforts through resources and active talent management that support women in non-traditional roles, including engineering and operations.
CenterPoint Energy's focus on diversity and respect for the workforce is reflected in its Women in Leadership Advisory Council (WIL). The Council was established in 2011 to increase the development of female leadership in all organizational areas of CenterPoint Energy, including operations and engineering. Recently, the WIL Advisory Council launched a "Pipeline to Purposeful Leadership" which provides opportunities to educate women to feel confident in their pursuit of leadership and management positions.
"The WIL Council has created a safe space for conversations about diversity," says Beverley Melchisedech, vice president of operations support at CenterPoint Energy and a board member. "What started out as board for directors and above has evolved to include managers, with the next phase slated to include supervisors. Our goal is to share as much information as possible to support our future leaders. "
CenterPoint President and CEO Scott Prochazka was featured, in a pre-recorded video, at the recent Energetic Women Conference, commending CenterPoint Energy's Women in Leadership Advisory Board (WIL) for their continued efforts to foster a culture of respect and diversity within their company. and industry. Beverley Melchisedech and Shachella James accepted the award on behalf of CenterPoint Energy.
CenterPoint Energy offers a variety of internal professional growth programs and opportunities to bring leaders and employees together to foster discussion, networking and relationship building. Corporate support and funding for these popular programs is a testament to the company's commitment to diversity. The result is a significant increase in the number of women leaders, especially in engineering and operations.
For more information on the Award for Excellence in Women's Development or Energetic Women, contact Stacey Bonine, staceyb (at) MEAenergy (dot) org, or (651) 289-9600 x114 or visit http://www.energeticwomen.org.
About energetic women:

Energetic Women, a program of MEA, is a national resource for professional development and leadership within the natural gas industry and electric utilities. Our mission is to prepare women within the energy industry for leadership roles in operations and engineering, where the greatest gap lies today. We promote, support, connect and recognize those who believe in developing high potential leaders to create a sustainable future and increase diversity at the highest levels.
About MEA:

MEA serves the people who provide electricity and natural gas to homes and businesses. We were founded as a trade association over 110 years ago by distribution services with a vision to improve safety and efficiency. Today, we accomplish the same goal through education, leadership development and industry relationships. Utilities, contractors and suppliers across the country benefit from our 55 summits, panel discussions and webinars, over 400 online technical courses, safety assessments, assessor training, qualification compliance tools operators and leadership courses for field staff.
Share the article on social media or by email: