Discover the new female leadership in the mining sector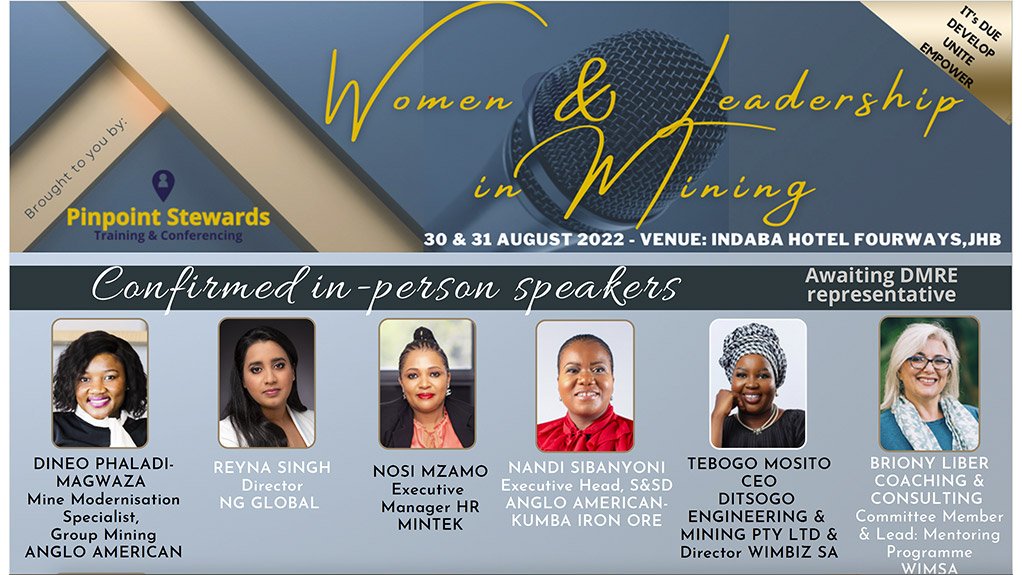 Women leaders in mining will meet face-to-face at the Indaba Hotel on August 30-31 to discuss ways to accelerate and implement equality in mining. The organisers, Pinpoint Stewards, a 100% women-owned organisation, support the Minerals Council South Africa's initiative to "double the number of women in mining by 2025" and they believe this platform is playing a essential role in achieving this objective by discovering new talents. and developing existing women into leadership roles.
Pinpoint Stewards co-founder Ankia Roux said, "The power of in-person contact should not be underestimated and while women come together to inspire others to step up and lead, I believe future CEOs of mining companies will be discovered at the conference." She continues, "Women attending this conference will have the opportunity to introspect and also assess the structures within their organizations to better develop, unite and empower women on their workplace.
Discussions will take place around inclusive organizational systems, creating healthier work cultures, and creating more equitable opportunities for women in mining. Women with experience in mining travel will take to the platform and share tips from above to drive change.
The topic on how to achieve double the percentage of women by 2025, through career guidance and mentoring, will be addressed by the SERITI section engineer Neo Matsimelaand Vergenoeg Mining Company Head of Mining Department Thabile Kulundu will discuss the life of a mine manager and her journey to this point. Mintek HR Executive Director Nosi Mzamo will touch on an interesting topic, on how to align project decisions in the interest of women, determining the gender impact assessment.
Other industry talking points to look forward to include: reforming government policies to promote opportunities for women in junior mining and exploration and finding new ways to close the gender gap , discussed by the Global Director of NG Queen Singh. Sasol Mining Supply Chain Manager Caroline Shirindza has a passion for encouraging others to lead and believes that you don't have to know everything, ask for help through mentoring and coaching. Briony Liber will provide practical insight and advice to potential mentors and mentees by addressing the importance of mentorship and how to stand up for yourself in a male-populated industry.
The conference aims to identify new talent and showcase organizations that support women's empowerment towards equality as part of their exhibits. They call on mining companies and stakeholders to contact them to support new talent wishing to enter the mining sector. "We hope to broadcast the conference to universities and schools to give young women a taste of the world of work of mining industry leaders," Roux said.
Giving Back – The conference seeks to elevate the issue of GBV and mentoring and as a result, a percentage of conference proceeds will be donated to Survivor Exit Foundation, Lighthouse Baby Shelter and WiMSA.
To support or register a group, contact: [email protected] or follow us on LinkedIn. Early bird discount valid until July 29.