DVIDS – News – Corbin Women's Leadership Forum speaks of growing responsibility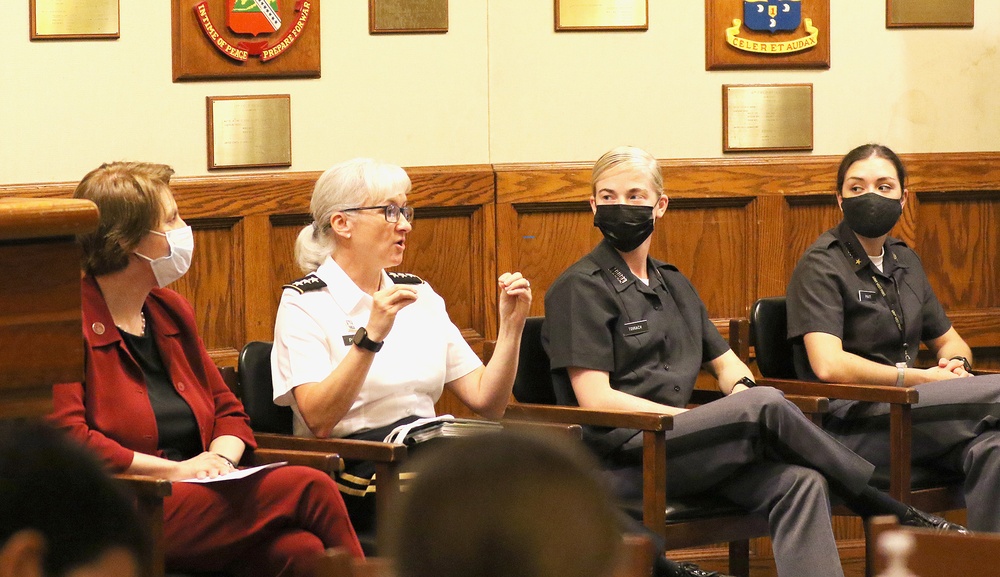 Story and photo by Delancey Pryor III
Assistant PV editor
The Margaret Corbin Women's Leadership Forum hosted an event on September 20 in the regimental hall inside the Cadet Mess during Women's Leadership Day. The event centered its message on "Leveling Up Your Leadership".
Filled with prestigious speakers and current members of the cadet leadership, the morning debate focused on women accepting increasing levels of responsibility.
The mission of the Corbin Women's Leadership Forum is to educate, empower and inspire the Cadet Corps to serve as commissioned character leaders by facilitating discussion of gender diversity and inclusion within the Corps, the military and society, and providing educational, mentoring and networking opportunities in support of cadets, staff and faculty.
The panel discussion was moderated by PL300 instructor Major Kimberly Cowan, who is also the officer in charge of the Corbin Forum club. Panel members included Lieutenant-General Laura A. Potter, Deputy Chief of Staff of Intelligence for the United States Army; the retired brigadier. General Cindy R. Jebb (Ph.D.), former dean of the United States Military Academy and current president of Ramapo College in New Jersey; Cadet of the class of 2022 Anna Tovkach, deputy commander of the brigade; and Caddy of the 2022 Class Holland Pratt, First Captain.
The discussion began with the question posed – Over the course of your career, or for our cadets in their time as cadets, have you looked for increasing levels of responsibility or was it something that a mentor or maybe? being another leader in your life, helped you steer yourself towards?
Pratt replied, "A bit of both for me. I walked into the plebeian year feeling like I was just going to go through the year and stay super calm and not engage in anything.
She explained to her instructor how she was not comfortable speaking in class, let alone giving any kind of contribution. Despite being the only woman in the class, Pratt's instructor encouraged her to speak out and be heard.
"From that point on, he helped me realize that I had a responsibility to step in and be a voice. He made me… understand that there is nothing wrong with giving my best, "said Pratt.
This experience and the added influence of her Tactical Officer has led her to understand that she can make a difference and, as a leader, help develop other leaders.
Potter added from a mentoring perspective, "I don't know if these guys know, but she (Dr. Jebb) was my mentor when we were in the 704th Military Intelligence Brigade at Fort Meade. She's part of the reason I stayed in the military and part of the reason I sailed through army life and life as a mother, which is totally doable if it is. is something you want to do.
Potter then further described his experiences with increased levels of influence, saying, "One of the things that I have found very rewarding is the ability to impact change.
"What you need to perfect as you move up through the ranks with your increased level of responsibility is how you understand all of the options your team presents to you, what the tradeoffs between those options are, and what kind of risk you run. accept when you make that decision. Potter added.
When asked the same question, Jebb explained that she had no idea how important the military educational mission was to her and how it took to impact future officers.
"I looked at the landscape and thought that if I possibly competed to be an academy professor, I would have the opportunity to try and shape the program in a very big way to make sure that our graduates will be able to think critically and be able to take on the challenge of the complex issues we face, "Jebb said. "The job I do now is based on my real belief in the educational mission, how it transforms lives and why we need an educated population here in the country to ensure that our democracy is healthy," that we are able to thrive and able to contribute in different ways in all sectors.
Pratt provided a cadet's perspective on the matter, explaining the unexpected opportunities his leadership position has offered him so far.
"For me, it's sort of double. First, the opportunity to really engage with senior leadership on certain perspectives that I think we've missed in the past. Said Pratt. "At the end of the day, what's great is that cadets want to do the right thing and senior management want to do the right thing.
"Second thing. I would say that no matter what position you find yourself in you are obviously always humiliating yourself… I feel like I really made the transition from my thinking to become more of an empathetic leader no only down the chain of command, but also at the top of the chain of command, "added Pratt. "I get to see a lot of behind-the-scenes decision making and all the different parameters that they constantly have to weigh and balance. "
Tovkach added, "I think one of the best opportunities I've ever had is… everyone who works under me, I get a little piece of it so I can help them achieve their individual goals. Seeing how many people are working to make West Point better and make us all better is inspiring and eye-opening. "
After the start of the panel, the floor was open to the cadets to ask questions and have frank conversations with the panel members.
| | |
| --- | --- |
| Date taken: | 30.09.2021 |
| Date posted: | 09.30.2021 14:58 |
| Story ID: | 406440 |
| Site: | WEST POINT, NY, United States |
---
| | |
| --- | --- |
| Web Views: | 66 |
| Downloads: | 0 |
---
PUBLIC DOMAIN
This work, Corbin Women's Leadership Forum speaks of growing responsibility, must comply with the restrictions indicated at https://www.dvidshub.net/about/copyright.