Empowerment, Women's Leadership Conference Health Focus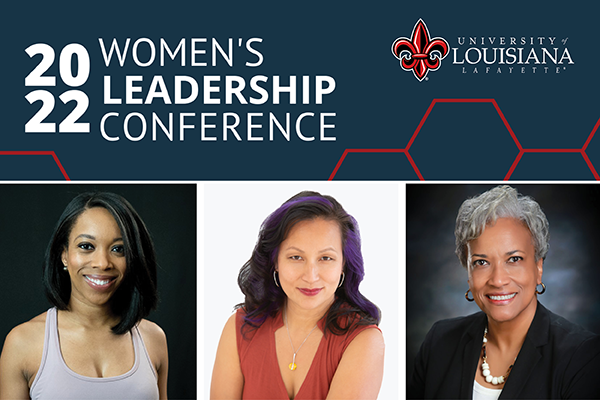 Leaders in fields including business, education, and nonprofits will share stories of personal and professional success at the 2022 University of Louisiana Lafayette Women's Leadership Conference.
It will take place from 7:30 a.m. to 4 p.m. on Thursday, March 24 at the Student Office. The UL Lafayette Office for Campus Diversity will host the conference, which is in its 15th year. It is designed to empower women, provide networking opportunities and recognize many for their long-standing success.
The conference is held in conjunction with National Women's History Month. The theme for Women's History Month this year is "Offering Healing, Promoting Hope". Speakers and breakout sessions at the Women's Leadership Conference will focus on physical and mental health. Topics such as autonomy, education, leadership and professional development will also be covered.
Hang Thi Yen Black, Dr. Valin S. Jordan and Angela Morrison will be the guest speakers.
Each has long histories of "encouraging and uplifting women, being incredibly successful and knowing their worth, yet incredibly humble," said Kiwana McClung, acting director of diversity at the University.
Black's career began as a process engineer at Advanced Micro Devices, where she earned several patents in semiconductor manufacturing. She was also a technical marketing engineer for Cisco before starting her own business as a sales and marketing consultant.
Black speaks internationally on topics such as sales and leadership and is the author of "Embrace Your Edge". In the book, Black, a Vietnamese immigrant, shares her story of overcoming adversity to become a tenacious wife, mother, and leader in Silicon Valley.
Dr. Valin S. Jordan, social justice scholar and educator, is the founder of Yoga4SocialJustice. The organization offers workshops that combine yoga practices and social justice work to support transformative change.
She is the National Director of Learning with the nonprofit Educational Opportunities Sponsors. Jordan began her career as an elementary special education teacher in New York City. From 2017 to 2020, she was assistant professor in diversity education at UL Lafayette.
Morrison is Community Development Manager for Meritus Credit Union. She has held positions with the Lafayette Parish School System, United Way of Acadiana, Lafayette Consolidated Government and Big Brothers/Big Sisters of Acadiana.
Morrison serves on the Council of Past Presidents of the UL Lafayette Alumni Association. She is also a board member of Inclusiv, One Acadiana, the Hospice of Acadiana Foundation and the Notre-Dame de Lourdes Regional Medical Center. The municipal council of the parish of Lafayette appointed
Morrison, trustee of the Lafayette Public Trust Financing Authority, and recognized her as a woman of excellence.
Three women will be recognized at the conference awards ceremony.
The Sarah Brabant Trailblazer Award recognizes a leader's longstanding contributions to their community and profession. It was created to honor Brabant's commitment to advancing women's equity. She is Emeritus Professor of Sociology at UL Lafayette.
The Emerging Leader and Rising Leader awards will be given to a woman who has made a substantial contribution to advancing gender equity due to her dedication and ability to collaborate and provide inspirational leadership. The awards recognize women in the middle and early stages of their careers, respectively.
A "Wellness Walk" will be held in conjunction with the Women's Leadership Conference. This event will take place from 9 a.m. to noon on Saturday, March 26 at Cajun Field. The event is open to anyone who registers to participate.
Learn more about the 2022 UL Lafayette Women's Leadership Conference and how to register.
Legend: Dr. Valin S. Jordan, Hang Thi Yen Black, and Angela Morrison will be featured speakers at the upcoming Women's Leadership Conference hosted by UL Lafayette's Campus Diversity Office. Image credit: University of Louisiana at Lafayette