G20 Empower encourages women's leadership in the private sector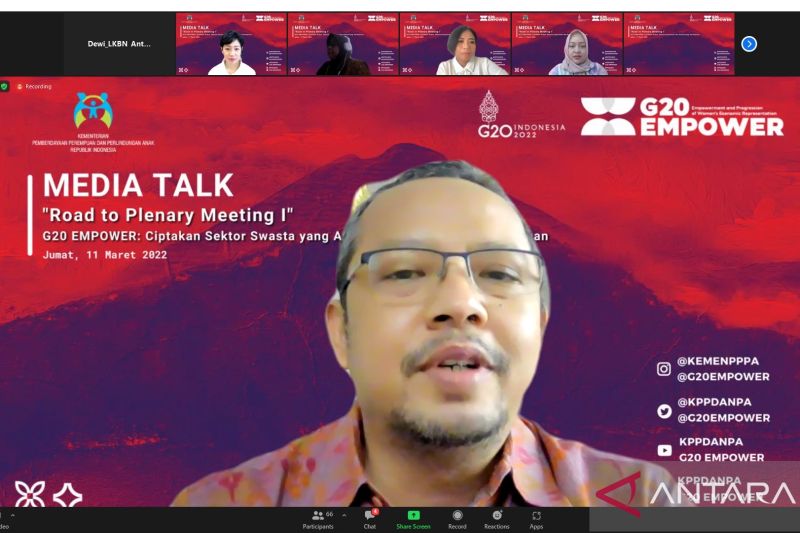 Jakarta (ANTARA) – The head of the Ministry of Women Empowerment and Child Welfare has pointed out that efforts to encourage women's leadership in the private sector were discussed during the G20 Empower.
In a webinar on Friday, Acting Deputy for Popular Participation in the Ministry Indra Gunawan explained that the G20 Empower had been led by a chair and a co-chair of government and private sector representatives.
Gunawan expects G20 Empower to foster strong collaboration between different private sectors in G20 member countries to increase women's leadership in the private sector.
Later, they will also identify various challenges and support several advances to strengthen women's leadership in the private sector.
Women leaders from various big companies will participate to become Indonesia's representatives at the G20 Empower, Gunawan added.
The ministry expects that through this representation of women, policies within companies will focus more on women's issues and gender equality.
Related News: Bali's Lemukih steps up tree planting program in line with G20
Earlier, Women's Empowerment and Child Welfare Minister Bintang Puspayoga said her ministry is working to encourage the private sector to promote gender equality in the world of work.
This is being spearheaded by a G20 task force, specifically the G20 Empower, Puspayoga noted in a Thursday press release.
One way to promote gender equality is to ask C-level executives to promote women leaders and economic development through practices that can be replicated, whether at the national level or in G20 countries, a she declared.
The effort to involve the private sector is being made to support the acceleration of gender equality in Indonesia as part of the momentum given by International Women's Day, she stressed.
G20 Empower, or the G20 Alliance for the Empowerment and Advancement of Women's Economic Representation, aims to accelerate women's leadership and empowerment in the private sector.
Related news: G20 Presidency beneficial for energy transition: ministry