Gender equality and empowerment of women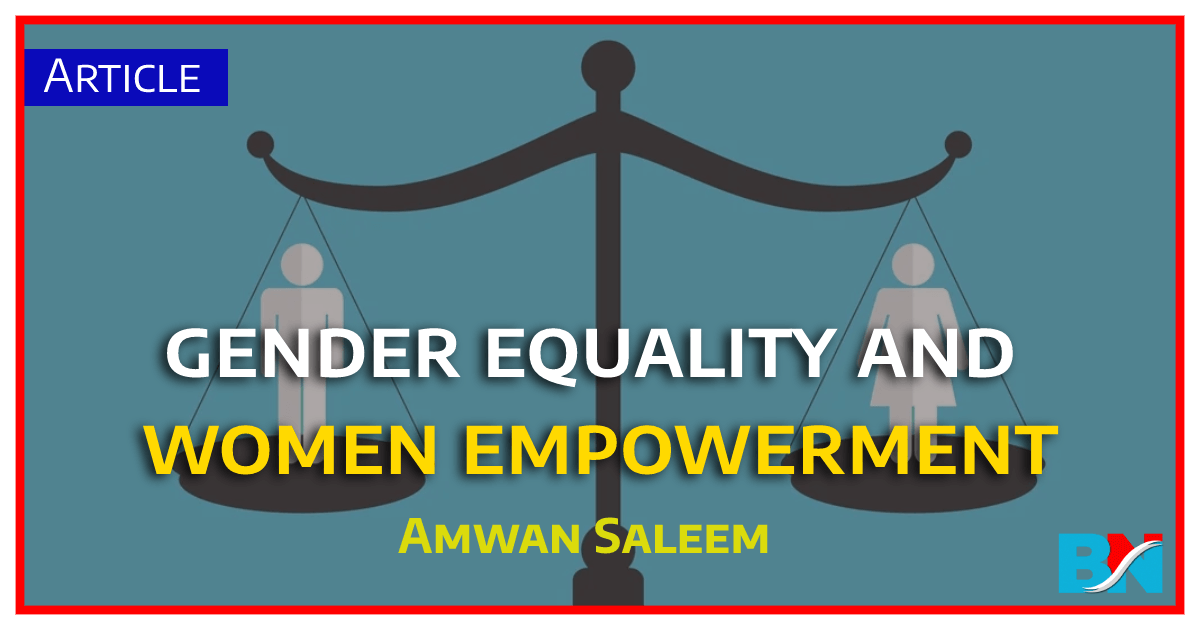 Gender equality is a human right, but our world faces many gaps in access to opportunity and decision-making power for women and men. In every era, it remained just a slogan and nothing in practice happened as far as it could work to the fullest and in reality.
Globally, women have fewer opportunities for economic participation than men, less access to basic and higher education, greater health and safety risks, and lower representation Politics. Women's empowerment is a so-called myth. Witnessing women's rights and giving them opportunities to reach their full potential is important not only for achieving gender equality, but also for achieving a wider range of international goals. If women and girls today are guaranteed their basic rights, it would be better for them to contribute to the health and productivity of their families, and to social growth, especially for their countries in national growth.
The word "gender" designates both men and women for equal rights in the social construction of societies. While gender equality means that men and women have equal power and equal rights in education, personal independence and social development. A wide range of developments flow from the empowerment of women, and this is only achieved when gender equality is recognized as an aspect of it. Women's empowerment is not about making a woman equal to a man, but rather about increasing a woman's sense of self-esteem, decision-making power, access to opportunities and resources, power and control over his own life inside and outside the home, and most importantly, his ability to bring about change.
Generally speaking, education is a critical area to focus on and bear witness to the injustice of gender equality. Although the world has moved in the broader interest of women in gender parity in education, girls make up a high percentage of the percentage of out-of-school children compared to boys. It is painful to note that a quarter of girls in the developing world do not go to school. Typically, families with low incomes and limited resources fail to afford expenses such as school fees, uniforms, and even books. Thus, families give birth to girls for household chores, carrying water and childcare, which is the constant result of gender inequality. Indeed, an educated girl is more likely to postpone her marriage, raise a smaller family, have healthier children and send her children to school.
Another important area is the health and safety of women. HIV/AIDS is becoming an increasingly impactful concern for women. This may be associated with women having fewer opportunities for health education, unequal power in sexual partnership, or the result of passion based on sex. Maternal health is also a definite concern. In many countries, women have limited access to prenatal and child care and are more likely to have problems during pregnancy and childbirth. In many countries, the fact that girls marry and have children before being ready or forced into marriage before the puberty age of 18 remains a major concern.
Globally, no country has fully achieved gender equality. A real fact proves that gender equality is the economic and political empowerment of women. Although women represent more than 50% of the world's population, they unfortunately only own 1% of the world's wealth. All over the world, women and girls are doing their best to do all the housework without any upfront payment. Finally, still in some places, women do not have property and inheritance rights, do not have access to credit, do not earn income or do not evolve in their working environment. In all spheres of life, including at home and in the public square, women are vastly undervalued and underrepresented as decision makers. Even politically, they should be the real change in democracy, but they still lack equal participation.