Owning a home is more than four walls and a roof. A permanent, safe and affordable place to live provides a sense of security, the opportunity to build community with your neighbors and, perhaps most importantly, a launch pad for your children's future.
Victoria Lopez, a mother of six, knows both the struggle and the triumph of succeeding alone. She settled in Moore County 20 years ago, a move prompted by the job offer and a church where she and her then-husband called home. Circumstances beyond his control have pushed his family into dire financial straits.
She reached out to Habitat for Humanity of the NC Sandhills for a helping hand, moving into the Midland Gardens community in Aberdeen. Less than a decade later, her children — now young adults — are thriving. Two have completed their studies, one of whom is currently finishing higher education, two sons have joined the army, another has his own business. Her youngest, a child with special needs, stays home with her.
"Habitat has given me a bright hope and future. I clung to it before I even moved into my house, when I was doing my sweat equity hours and volunteering. I knew there was a future and I didn't feel overwhelmed and discouraged. That's why I'm so passionate about giving this support, love and care to another woman. It's not just about paying rent, when you own your own home, you feel like you've settled in.
Lopez is one of five panelists scheduled to speak at the upcoming Women's Empowerment Brunch Feb. 3 at Forest Creek Country Club, a fundraiser for Habitat's 2022 Women Build project. This house will be built on Keyser Street, right next to the Apostles Build house, which is also expected to start construction soon.
Other panelists include Natalie Hawkins, executive director of Partners in Progress; Bonnie McPeake, owner of McPeake Hotels; Stephanie Phillips, Principal of Pinecrest High School; and Amy Sexauer, military veteran and executive director of Dreams for All Foundation. Panelists will share their stories and successes in their lives and careers over a brunch buffet.
Donna Engelson is this year's Women Build team captain, her second time in the role. She also hosts the Women's Empowerment Brunch.
"In our cities, it is really difficult to find housing for less than $1,000 a month. People are literally sacrificing their grocery money to have a bed to sleep in," said Sexauer, who served in special ops and is now in the U.S. Army Reserve, in addition to his role with the Dreams. for All Foundation. "I got involved with Habitat in 2020 because Donna reached out to several local female fighters in our community who are featured in the book 'Ashley's War'. I was flattered to be invited to speak on this panel again.
Lopez also feels particularly passionate about the Women's Build program because her home was a Women's Build project. During this difficult time, working alongside women she had never met, in addition to having the support of her church, changed her life.
"I can't tell you how loved I felt, how healing it was. It gave me a sense of dignity that people wanted to see my family succeed financially, emotionally, and spiritually. They gathered around us. I am passionate about helping the next wife and her children. Being lucky enough to own a home not only changes a mother's life, it gives children a bright future. It provides that strong, secure foundation in which they can grow into the healthy adults we need.
In addition to her children's success, Lopez built her real estate career with Keller Williams Realty. In 2020, she sold her home purchased by Habitat and moved to Pinebluff, buying her second home next to her mother. Through the equity she had built in her Habitat home — as well as the upgrades she had made to the original structure — she used a portion of her earnings to make a substantial contribution to Habitat.
"I started volunteering as my kids got older and left the next day, and I found I had more time. It is very rewarding. If you ever feel low, get out there and volunteer with Habitat. I promise you will feel welcomed, you will feel loved and you will feel appreciated.
"The challenges are increasing," said Amie Fraley, executive director of Habitat. "We saw it coming and we've been preparing for it for years because there really isn't anyone else who can provide affordable housing in this neighborhood. And there are people in our healthcare and hospitality sectors who need safe and affordable housing.
Habitat is a global non-profit housing organization, founded on Christian principles, with a vision to provide safe, decent and affordable housing. Innovative homes are sold to families with a zero interest mortgage. In addition, prospective homeowners are required to contribute 300 sweat equity hours by attending homeownership classes, working on the construction site, or completing other volunteer hours with Habitat.
Elise Wakins and her son, Carter, were selected as winners of the 2022 Women Build project. Their home on Keyser Street, Aberdeen, is part of a five-house Habitat community.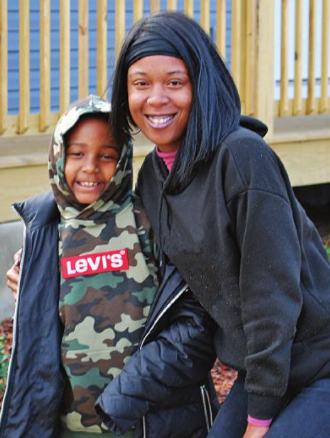 Fraley said the local Habitat affiliate has also stepped up its essential repairs program. They are closing in on 300 essential repairs, for things like new roofs and wheelchair ramps, for elderly and disabled homeowners so they can continue to live safely in their own communities.
"We are happy to be able to serve in different ways to provide affordable housing. The Critical Repairs Program also opens up more opportunities for those who wish to volunteer," Fraley said. "And as we move forward, we're showing our donors that we can put their dollars to good use, which means additional dollars will flow into Moore County to serve more families who match our demographics. ."
The Women Build Committee 2022 has set a fundraising goal of $70,000 to offset the cost of materials for the new home in Aberdeen. To donate, volunteer or purchase tickets for the Women's Empowerment Brunch on February 3 at 10:30 a.m. at Forest Creek Golf Club, visit https://sandhillshabitat.org/ or call (910) 295-1934.