How an award can pave the way for women's empowerment | Camber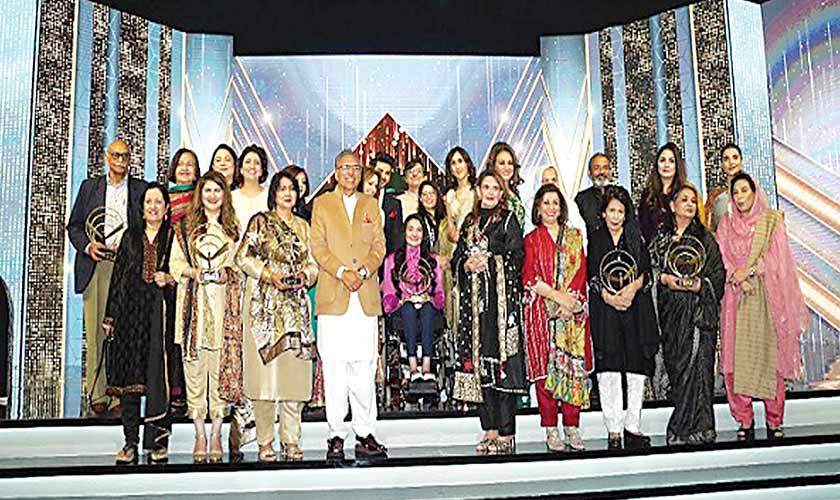 OWhen Syeda Ghulam Fatima, one of the 12 recipients of the third edition of the Kashmir HUM Women Leaders Awards (HWLA), took the stage to receive her award, she said something that encompassed the importance of what this platform is maybe doing. A human rights activist well known for her work on debt bondage in brick kilns, Ghulam said recognition of this nature recharges her before she has to return to her job and her responsibilities.
Recognition is what the women celebrated by the HUM Women Leaders Awards definitely need, because the work they do and the obstacles that stand in their way can create a very demotivating environment.
With nearly 208 million people living in Pakistan, approximately 48% are women, making it one of the largest "minority groups" in the country. These 100 million women live in the 6th most dangerous country in the world in terms of violence against women. And the statistics speak for themselves – the socio-economic environment does not allow women to lead the life they want, free from violence.
So it's a feat when a woman rises to the occasion, despite setbacks, and creates space for other women to thrive and thrive. The 12 awards were intended to honor and propel the work done by key players across the country, and also fit within the International Women's Day theme of "making the cross and breaking prejudice". They celebrated 11 iconic women and one dynamic man from Pakistan and abroad for their contributions and achievements in the fields of social work, health, justice, human rights, science, education, art and architecture. These winners were selected with the assistance of a HWLA advisory committee, consisting of Maleeha Lodhi, Ameena Saiyid, Rehana Hakeem, Amin Hashwani and Dr. Huma Baqai.
This year's winners include such amazing names as Muniba Mazari, Fiza Shah, Dr Rozina Karmaliani, Ghulam Fatima, Maryam Bibi, Yasmeen Lari, Dr Azra Raza, Justice Majida Rizvi, Noorjehan Bilgrami, Jaqueline Novogratz, Dr Wan Wardatul Amani and the Dr Shershah Syed.
Muniba Mazari is a well-known activist and role model, National Ambassador for UN Women and working to amplify the voices of people with disabilities in Pakistan. Maryam Bibi was recognized for her organization Khwendo Kor which means "the house of sisters". Through her organization, Maryam Bibi helps oppressed women who live in remote areas of Khyber Pakhtunkhwa province, especially in the territories known as FATA. Justice Majida Rizvi was Pakistan's first female High Court Justice and is one of the country's most influential legal figures. Justice Majida Rizvi was also the first chairwoman of the National Commission on the Status of Women and undertook landmark work on reviewing discriminatory provisions relating to women's right to assets, employment of women in the sector public and Qisas and Diyat laws. . Yasmeen Lari, Pakistan's first female architect and CEO of the Heritage Foundation, has been awarded for her conservation work on several World Heritage sites in Makli and Lahore Fort, as well as 19th century buildings in Karachi, Lahore and Peshawar. Dr Rozina Karmaliani, Professor and Dean of the Aga Khan University School of Nursing and Midwifery, took the stage and announced that she was happy that the platform was giving a prize "to a nurse" .
This statement is important because it is very easy to recognize and be impressed by women's empowerment initiatives that address issues that attract attention, such as rape and violence, but health issues are rarely addressed. in the national discourse on women.
But that's not the only way the HUM Awards create room for change. The award ceremony was honored by the presence of the President of Pakistan, Dr. Arif Alvi and the First Lady, Samina Alvi, as well as several notable personalities such as the Minister of Science and Technology Shibli Faraz and the Federal Minister of CPI Fehmida Mirza. This means that the awards slowly become the ground for highlighting important causes for a wider audience, as well as ensuring that commitments are made and honored by the Government of Pakistan.
In her opening speech, Sultana Siddiqui called on the President to highlight domestic violence and child abuse bills in the National Assembly and called on the current government to increase women's representation in Parliament and the National Assembly. Fehmida Mirza spoke about the importance of implementing the law on protection against harassment of women in the workplace; Hareem Farooq asked all viewers to work for a safer country for women, where no woman has to fear for her safety when stepping outside her home. These promises and commitments are televised and documented and can be used to hold the government accountable later.
It was a highly collaborative evening that brought together entertainment and politics. All that important work was being discussed with Ahsan Khan and Mira Sethi in the background looking glamorous and adding their wit and banter to the evening. Artists such as Sanam Marvi and Asim Azhar entertained people.
Since this is a recurring event, what would perhaps make the evening even more influential is if follow-ups are made on the pledges made the previous year. Then the HWLA will become an event that all women can look forward to and work for.