Survey finds youth and women's development not progressive in various areas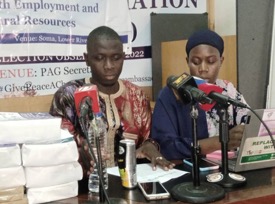 The main areas of interest were the participation of women and youth in governance, leadership and decision-making, youth unemployment, human rights, access and ownership of natural resources.
The results revealed that 74.8% more women and young people voted in presidential elections than in parliamentary and local elections.
Ninety-seven percent of respondents said they had never participated in the country's three main presidential, parliamentary and local elections.
Sixty-five percent of respondents are over 36 years old while 34.9% are over 35 years old.
The study reveals that women and youth in leadership positions in institutions are still limited. Although the study reveals that 45.5% and 36.4% of the respondents held or hold leadership positions in their Village Development Committees (VDCs) and civil society organizations and the majority hold or have held leadership positions in state-owned enterprises (SOEs) and political parties. .
The study further revealed that 63.7% of the respondents are employed while 36.3% said they were unemployed. However, the majority of employees are self-employed and work in the agricultural sector as smallholder farmers.
About 64.5% of respondents who said they were unemployed are women, while 35.4% are men.
It also revealed that 77.7% said they had never experienced any form of human rights violation in the past five years, while 22.3% said the opposite.
Eighty-six percent of respondents indicated that it is difficult to own and access land, while 61.5% indicated that this is due to lack of financial means.
Sannaba Jawla, senior program officer in Beakanyang, said women and youth make up the highest percentage of the national population and despite their size, they face a host of issues affecting their progress.
"The research was conducted to inform the development of policy briefs and fact sheets on the said issue," he said.