What we need to do to strengthen women's leadership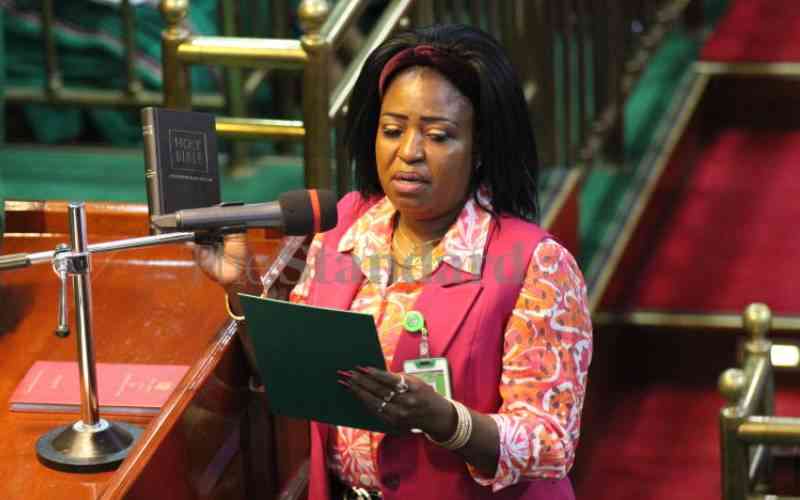 "Now sit back and watch what women can do in power," said Tabitha Karanja, a newly elected senator from Nakuru.
In the August 9 elections, Kenyan women elected 30 women MPs, compared to 23 in 2017, as well as 7 women governors, compared to 3 in 2017, and 3 senators, as in 2017.
The election of more women is encouraging since these positions hold power and influence over resources. To increase the number of women in leadership positions, institutions such as universities and colleges need to help develop women's leadership capacities, implement gender policies and research on women's leadership issues.
Women in leadership positions in universities and colleges can encourage more female students to pursue leadership roles while addressing conscious and unconscious gender bias.
Access to women's representation in political decision-making processes contributes to the achievement of the Sustainable Development Goals on gender equality. The 2010 Constitution imposes a two-thirds rule between the sexes, which states that no more than two-thirds of either sex can sit on elective bodies.
Since 2013, Kenya has used affirmative action to achieve the two-thirds gender rule, introducing 47 female representative positions in the National Assembly.
The increase in the number of women leaders elected in 2022 goes beyond constitutional requirements and shows that women have the drive, ambition and skills to access and achieve leadership positions. Women aspire to be leaders, according to data and evidence from the 2021 Women Education Leaders in Sub-Saharan Africa (ESSA) report. They develop the skills required for leadership and have the ability and mindset to pursue opportunities.
Women face many obstacles in their quest for leadership positions. According to ESSA, the biggest barriers across all sectors are socio-cultural expectations, lack of mentoring and networking opportunities, and gender stereotypes.
Individually, some women often lack confidence in their ability to lead, seeing themselves as less qualified for key leadership positions. To overcome these obstacles, government, educational institutions, employers and non-governmental organizations must all work together.
First, there is a need to use data and evidence to determine what measures, targets, policies and interventions are needed to increase the number of women in leadership positions.
Universities, colleges and research organizations need to collect data on the state of women's leadership to track progress and inform appropriate policy action. For example, ESSA conducted research that combined understanding existing evidence in Africa with listening to over 400 female scholars, both professors and students. This research provides a broad understanding of the current situation, including the barriers that prevent more women from transitioning into leadership in universities and colleges.
Second, we need to foster a positive, inclusive and supportive environment for women. This could be accomplished by putting in place infrastructure and policies that will enable women to excel in their careers and as leaders.
Third, women's leadership development programs are needed. Leadership programs contribute significantly to the development of soft skills of women leaders who grow from technical experts to leaders.
According to research, a combination of hard power and soft power is necessary for leadership development. Communication, flexibility and patience are important soft power characteristics of strong leaders, as are hard work and trust.
Fourth, mentoring programs are essential because they build self-esteem and professional skills. Mentoring programs have a positive impact on women's leadership development, according to data from ESSA. In addition, women prefer short programs and allow them to acquire in-demand skills.
Finally, the role model has an undeniable impact on women in leadership. It provides identity and a sense of belonging to leadership, fostering a personal connection between women.
According to research, the presence of women in leadership positions at the local level has a positive impact on the professional aspirations and educational attainment of girls. When women see other women in positions of power, they are much more likely to believe they can do the same.
-Ms Kipruto is Communications Officer and Dr Mbithi is Research Director at Education Sub Saharan Africa (ESSA).