Laughter and chatter echoed through a room full of powerful businesswomen of all generations as they forged meaningful connections that will last for years to come.
"I think it's very important to connect with people, especially in a field similar to yours, especially when it comes to a field like business that is so heavily male-dominated" , said Calista Pantoja-Kinney, a sophomore.
On Wednesday, the WE Mean Business Women in Business Leadership Event and Dinner gave young women the opportunity to engage and learn from older generations of women in their field of interest.
The first WE Mean Business Dinner was hosted in 2019. Following the COVID-19 pandemic, the College of Business hosted a virtual dinner in 2020. It was the first in-person dinner hosted since the pandemic.
"Women's leadership is a little different, and so we're looking at ways to bring the voices of female students to the table and learn from those in industry and learn from business leaders about how they lead in as a woman in business," COB Chief of Operations Tiffany Hughes said.
COB partnered with Enterprise Holdings to host the dinner. COB and Enterprise worked together to choose the five core principles on which the event is centered: learning constantly, advocating hard, acting courageously, fostering collaboration and building relationships.
Hughes said the principles chosen for the event originally came from ATHENA NextGen, a program founded by UCF alumni Jennifer Johnson, Traci Smith and Karen Keene. ATHENA was created to "promote women's entrepreneurial initiatives and the development of leadership skills," according to its website.
"Enterprise Holdings was one of our corporate partners, and they wanted to do more around women's initiatives, so we created this dinner and we used the ATHENA model," said Johnson, a former team member at UCF COB commitment.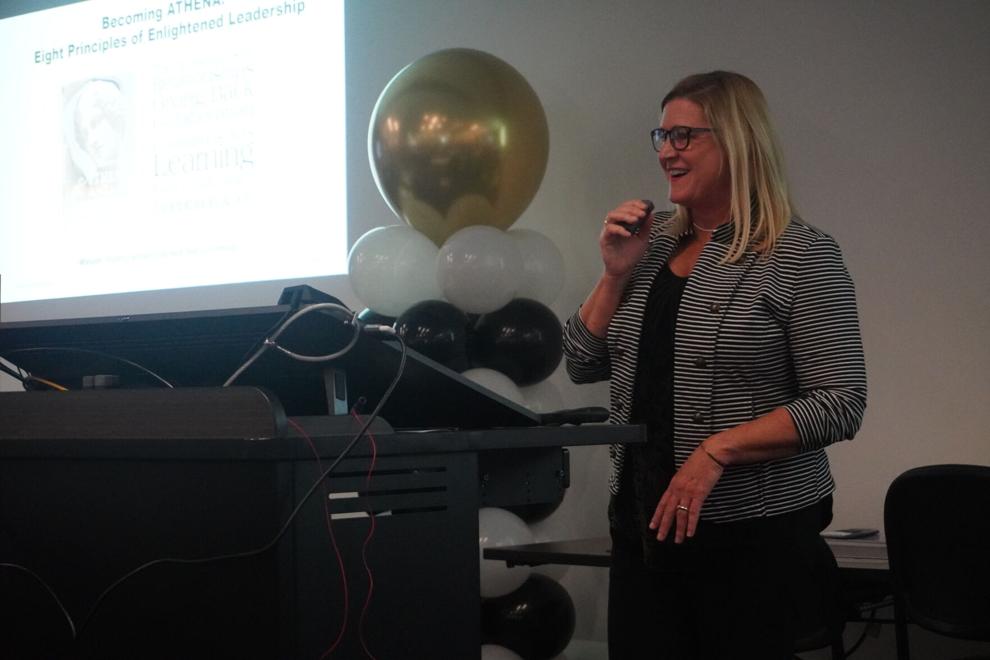 The dinner gives students the chance to talk with women who have found success in the business world. Hughes said each table at the dinner will be led by a female business leader acting as the main table facilitator who will use the basics to lead a leadership discussion.
"Being an older businesswoman, I think it's so important for our younger businesswomen to have role models and then to be able to see women at different stages of the business and be able to engage with us, and to be able to interact, to be able to ask questions and to be able to get advice," said Carolyn Messiah, Associate President of Marketing and Table Host.
COB and Enterprise have selected several women in leadership positions to run the tables.
"We do women's empowerment, which is like an employee resource group, and we're always looking for ways to empower women to be strong leaders," said Renee Rabasca, hiring manager. of Enterprise Group. "This is one of our initiatives to continue to help not only our own employees, but also other employees as we continue to network."
The event gave business students the opportunity to network and connect with like-minded business leaders.
"Just being around a group of women in the same field as me really makes me feel good," said Kalise Brown, a second-year integrated business student. "I think finding role models, whether you have a real mentor or meeting women like this tonight, is very important. Sometimes you just need a little inspiration; I feel like everyone needs inspiration.
"Whether you already have it or miss it, events like this can show you that what you want to do is entirely possible."